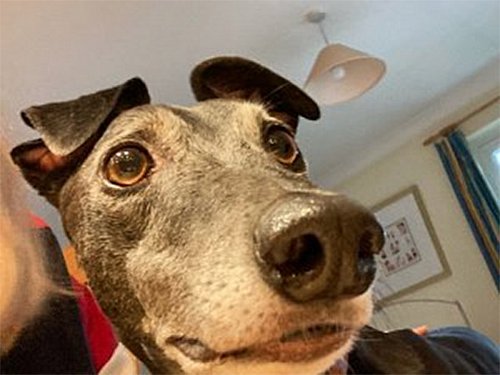 Many people are struggling at the moment. I wonder if you are one of them and you'd like to be able to hibernate? Just hide away and wait for it all to pass? Or perhaps you are struggling with something of an enforced hibernation if you are isolating with Covid. This morning I was struck by how my dog Anna was instinctively doing just this, curled up into a relatively small ball, keeping herself warm and protected, dreaming of happy times, and oblivious to any worries she may have (probably when would the next walk be?).
On that note, it's a particularly cold, grey January day and I must admit I was not at all tempted by the prospect of getting outside. However, this is where Anna comes in, encouraging me to take the plunge. I knew it was what she needed and the sheer joy and excitement on her face as I attached her lead reminded me what a difference it would make to her.
It was so worth it. Watching Anna exploring a pile of leaves with complete focus, as if it was the best thing ever, led me to start looking around for things I could appreciate.
Without this walk I wouldn't have noticed that the green snowdrop tops are actually developing little white buds now. This is so important for me because spring is my favourite time of year. I love the way that somehow the spring bulbs are finding the nourishment they need, determined to grow despite the unwelcoming conditions.
Sometimes just getting out and moving can help us to find fresh perspective, even on the greyest of days. When we got back I was inspired to write this, cup of tea beside me, face still tingling from the change of temperature, knowing that I had done something good not just for Anna, but for me.
What small thing can you do today to take care of yourself on this grey day? Just taking a moment to ask ourselves 'What do I really need right now?' can be really beneficial. It may be that some form of 'hibernating' is just what you need and it could be as simple as a warm bath. Please don't think I'm saying you should go outside or force yourself to do anything else that might be seen as good for you even though sometimes giving ourselves a gentle nudge to do something we resist can be helpful.
What I am asking is whether we can find a kind voice inside us that wants the best for us, that wants to support us through difficulty, knowing that small actions can make a difference to how we feel. Often this is a small voice because our self-critical voices are so vocal and easier to hear.
I believe that we all have this voice. The challenge is allowing ourselves to hear it.
What might your small, kind voice be saying to you today, whatever your circumstances?